The Marcus & Millichap CRE Forum: Chicago brought together Chicago's most important and influential Commercial real estate leaders to discuss the latest industry trends in all major asset classes (office, industrial, retail & hotel) on March 26, 2014.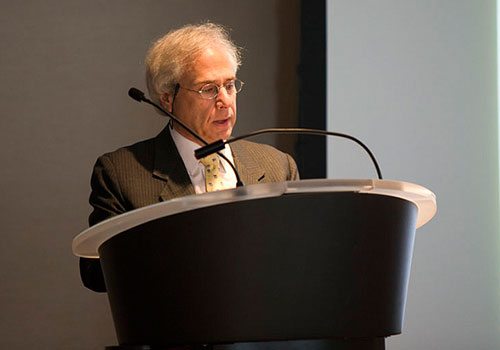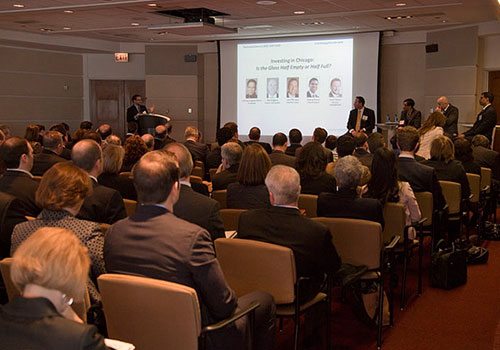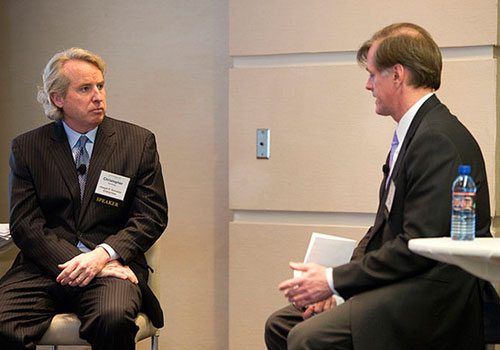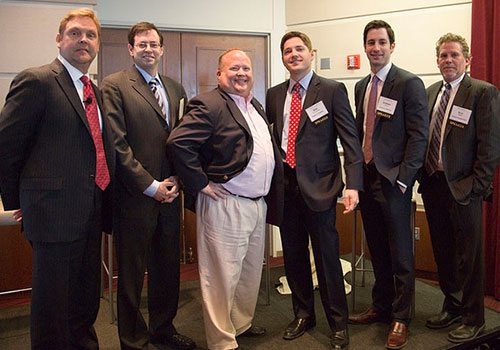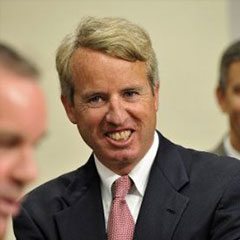 Christopher Kennedy, Chairman, Joseph P. Kennedy Enterprises Inc.
Chris is chairman of the Board of Trustees for the University of Illinois and the Joseph P. Kennedy Enterprises, Inc. Additionally, he serves as treasurer of the Joseph P. Kennedy Jr. Foundation, is on the Executive Committee for the Chicago Community Trust, and is a board member of both the Catholic Theological Union and Interface, Inc. Chris earned his BA from Boston College and his MBA from the J.L. Kellogg Graduate School of Management at Northwestern University where he serves on the Dean's Advisory Board.
Photograph – Courtesy of Sun-Times Media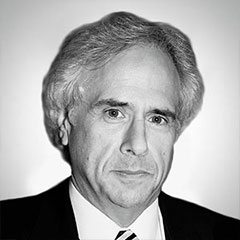 Lou Raizin, President, Broadway in Chicago
Lou Raizin has over 30 years' experience in the entertainment industry. As a founder and the prime mover behind Broadway In Chicago, a joint theatrical venture formed in 2000, his leadership propelled the transformation of Chicago from a short-term stop on "the road" to the third most important city in the world for theater. Encompassing the five premier theater stages in the city, Broadway In Chicago has brought an economic impact of up to over $750 million annually to the City of Chicago and State of Illinois, and supports more than 9,200 local jobs.
Confirmed Speakers:
Jeff Broaden, Vice President, AJ Capital Partners
Daniel Cole, Partner, Ginsberg Jacobs
Dan Cowell, VP & Healthcare Market Manager, Irgens
Rand Diamond, Principal, Glenstar Properties
Collete English-Dixon, Principal – Transactions, Prudential
James Field, Co-Founder, Field & Goldberg
Dan Fogarty, Vice President, Connor Commercial
Todd Frank, Senior Real Estate Manager, Walgreens
Alby Gallun, Reporter, Crain's Chicago Business
Richard Gatto, Executive Vice President, The Alter Group
Michael Goldman, SVP – Acquisitions & Investment, Golub & Company
Matt Goode, Principal, Venture One Real Estate
Paul Kopecki, COO & Partner, MedProperties Group
Graham Palmer, Partner, Centrum Partners
Andrew Hochberg, Chief Executive Officer, Next Realty
Ryan Ori, Reporter, Crain's Chicago Business
Todd Lillibridge, President & CEO , Lillibridge Healthcare Services
Alfred Klairmont, President, Imperial Realty
Christopher Kennedy, Chairman, Joseph P. Kennedy Enterprises
Roger Koeppen, Vice President, Amata Office Centers
Scott McKibben, Managing Principal & Co-Founder, Brennan Investment Group
John Murphy, President, MB Real Estate
J. Scot Pepper, Executive Vice President, Pepper Construction
Sarang Peruri, Principal, Oxford Capital
Alan Pontius, Senior Vice President / National Director – NOIPG, Marcus & Millichap
Anthony Pricco, Principal, Bridge Development
Steve Rachman, Regional Manager – Chicago, Marcus & Millichap
Lou Raizin, President, Broadway in Chicago
Michael Reschke, Chairman & CEO, Prime Group
Bill Rose, Vice President / National Director – National Retail Group, Marcus & Millichap
Milan Rubenstein, Partner, Windy City RE
David Ruttenberg, Director of Acquisitions & Finance, Marc Realty
Robert Smietana, CEO & Vice Chairman, HSA Commercial Real Estate
Mark Stern, SVP – Acquisition, Waterton Associates
Randy Tiemen, Director of Real Estate Development, Mortenson Development
Scott Toban, Partner, Dentons
Nick Wibbenmeyer, SVP – Senior Market Officer, Regency Centers
John Wilson, President, HSA PrimeCare
Conference Agenda Included:
Investing in Chicago: Is the Glass Half Empty of Half Full?
Tale of Two Cities: City vs. Suburbs
Attention Shoppers!: Hot Trends in Chicago Retail
Paging Dr. Development: Is there a Healthcare Boom?
Now That's What I Call Logistics:

The Future of Chicago's Industrial Development

What Was Old Is New Again: How Adaptive Reuse Has Been Successful in Chicago
Don't Stop Thinking About Tomorrow: Investment Strategies for Chicago Capital Markets