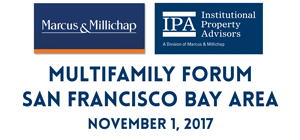 Dynamic Strategies for Any Challenge
On September 26, join over 700 multifamily executives from across the region at the 7th annual Marcus & Millichap / IPA Multifamily Forum: Northern California. This one-day event has a proven track record of bringing together the most active, influential and visionary owners, investors, developers and financiers to discuss and debate what's next in the apartment and condo industry in Northern California.
Key focus areas include: updated outlook for apartment development, investment activity and trends, fresh approaches to rehab / repositioning, innovations in apartment management, the debt and equity markets, the housing crisis and what's ahead in rent control and other regulatory issues affecting multifamily investment, development and management.
Key reasons to attend:
Get the latest market data on transactions, rent trends and new unit pipeline by market
Learn how to make the value-add business model still work despite lower yields
Discover innovative apartment technologies that lead to rental increases
Get updated on what's happening with rent control and other regulatory issues
Explore fresh ideas on pursuing new development opportunities at this stage of the cycle
Gain insight from and connections to active equity investors and lenders
Share ideas and challenges in the closed-door, peer-to-peer roundtables*
* Separate registration required – inquire if interested
The Marcus & Millichap / IPA Multifamily Forums bring together over 6,000 multifamily owners, investors, managers and developers each year to create an in-person marketplace for learning, discovery, networking and deal making. The sessions address the major issues affecting the apartment and condo industries today, and the networking allows multi-housing principals to meet, talk and source deals and investment capital.
Who Speaks
Speakers at the Marcus & Millichap / IPA Multifamily Forum: Northern California are typically senior executives and company leaders who lead teams that invest, own, develop and manage multifamily properties, as well as a curated selection of industry leaders from organizations that impact the multifamily asset class today.
Past Keynote Speakers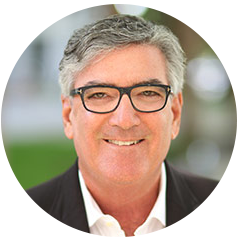 Robert Freed
President & CEO
SummerHill Housing Group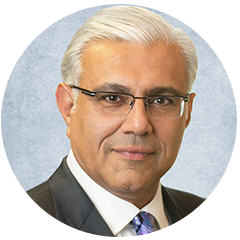 Hessam Nadji
President & CEO
Marcus & Millichap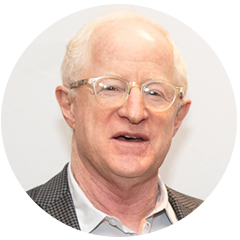 Bill Witte
President
Related California
Featured Speakers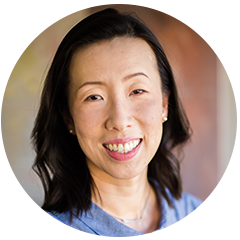 Sandy S. Blair
VP & Regional Manager
Marx Okubo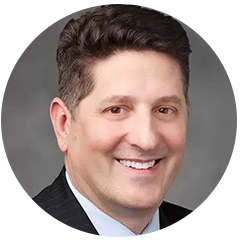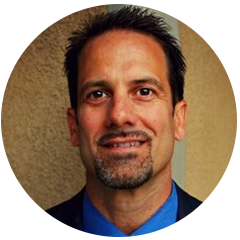 Chris Hagen
SVP Operations
MG Properties Group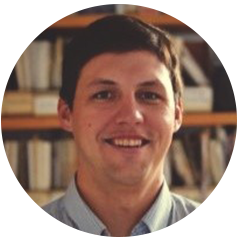 James Hannah
VP – Client Energy Services
Bright Power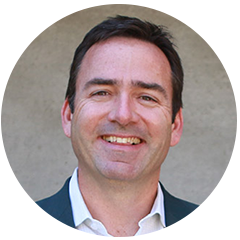 Ken Lowney
Principal
Lowney Architecture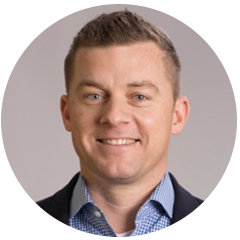 Billy Meyer
Managing Director – RE Lending
Columbia Pacific Advisors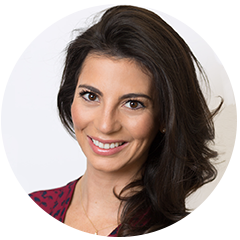 Alexa Mizrahi
Director, Loan Origination
Lone Oak Fund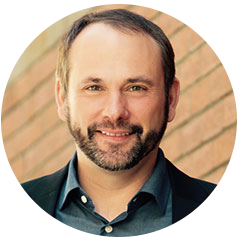 Paul Niewiadomski
Partner
Lubin Olson & Niewiadomski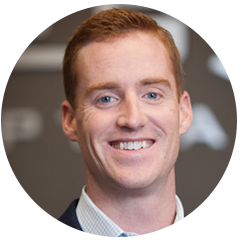 Peter Wilson
President
PTLA Real Estate Group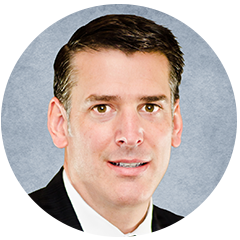 John S. Sebree
First Vice President/
National Director,
Multifamily
Marcus & Millichap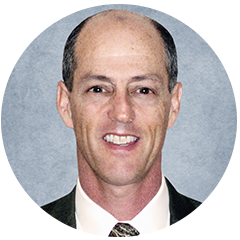 Steven J. Seligman
First Vice President/
Regional Manager
Marcus & Millichap
Palo Alto
Aaron Hancock, Managing Director, Raintree Partners
Al Pace, CEO, Pacific Urban
Alex Waterbury, President, Lennar Multifamily
Andrew Hudacek, Chief Investment Officer, Sares Regis Group
Anna Kramer, Managing Director, Pacific Urban
Arden Hearing, Managing Director, Trumark Urban
Brian Chuck, Partner, Calvera Partners
Bruce Dorfman, Principal, Thompson Dorfman Partners
Charles Demmon, Partner, Demmon Partners
Charles Schoenau, Managing Director, Insurent
Charmaine Curtis, Principal, Curtis Development
Chris Beda, Chief Investment Officer, Carmel Partners
Chris Hudson, Principal, Hudson McDonald
Christopher J. Kober, Managing Director – Portfolio Operations, Pacific Urban Residential
Cynthia Parker, CEO, Bridge Housing
Dan Safier, President, The Prado Group
Damon Conklin, Director of Government Affairs, Federation of California of Builders Exchanges
Daniel Kaplan, Chief Investment Officer, FPA Multifamily
David Mugmon, Partner, Seiler
David Shillington, President, Marcus & Millichap Capital Corporation
Edward McGovern, Managing Director, Capital Markets, Security Properties
Ed Padilla, EVP, Opus Bank
Eric Tao, Chief Investment Officer, AGI Capital
Erik Spring, Director of Sales, Wave Broadband
Greg Vilkin, President, Related California
George Marcus, Chairman, Marcus & Millichap
Greg Campbell, Senior Managing Director, TruAmerica Multifamily
Heath Silverman, Managing Director, S3 Properties
Jack Gardner, CEO, The John Stewart Company
Jay Standish, Co-Founder, Open Door Development
Jeremy White, CEO, Grupe Management Company
Jim Wiegandt, CRE Banking, Banc of California
John Protopappas, CEO, Madison Park Financial
John Eudy, Chief Investment Officer, Essex Property Trust
John Kennedy, Managing Director, Barings
Jon Coupal, President, Howard Jarvis Taxpayers Association
Jonathan Ellenzweig, Managing Director, Tricon Capital Group
Jonathan Scharfman, General Manager & Director, Universal Paragon
Kelvin Tetz, National Practice Leader, Real Estate, Moss Adams
Kenneth Nilmeier, Principal & Director of Planning, MVE & Partners
Kenneth Rosen, Chairman, UC Berkeley
Kirby Sack, CEO, Sack Properties
Kurt Zech, President, Kennedy Wilson
Luis Belmonte, Partner, Seven Hills Properties
Mark Kroll, Managing Director, Sares Regis
Mark Putney, Managing Member, MNM Partners
Mark MacDonald, Principal, DM Development
Mark Luce, President, Association of Bay Area Governments
Marshall Boyd, President, Interstate Equities
Matt Matteson, Co-President & COO, JB Matteson
Meg Spriggs, Managing Director, Shorenstein
Michael Anthony, Principal, MNM Partners
Michael Covarrubias, CEO, TMG Partners
Michael Ghielmetti, President, Signature Development Group
Osborn Erickson, Chairman, Emerald Fund
Paul Stein, Managing Partner, SKS
Phil Saglimbeni, Senior Managing Director, IPA
Randall Miller, President, Nautilus Group
Randy Berger, Principal, Berger Enterprises
Richard Hannum, CEO, Forge Land Company
Rob Rosania, Founder & Managing Partner, Maximus Real Estate Partners
Robert Freed, CEO, SummerHill Housing Group
Robert Hart, CEO, TruAmerica Multifamily
Robert Wagner, Managing Director, Sares Regis Group of Northern California
Robert Younkin, Principal, PGIM Real Estate Finance
Roger Snell, Chief Investment Officer, Veritas Investments
Scott Croul, Managing Director, Freddie Mac
Steve O'Connell, Managing Director, Grosvenor
Stan Jones, Executive Managing Director, IPA
Steven J. Seligman, FVP/Regional Manager, Marcus & Millichap Palo Alto
Tod Spieker, President, Spieker Companies
Todd Darling, CEO, Acacia Capital
Tony Avila, Managing Principal, Encore Housing Opportunity Fund
Yat-Pang Au, Founder, Veritas Investments
Past Participating Firms (partial list)
29th Street Capital
ABC Jewelry Imports
Acacia Capital Corp
Aggarwal
Alliance Residential
Altus Equity Group
Anton Development
Architecture Design Collaborative
Archway Fund
Ares Management
Ascend Investments
AvalonBay
Avesta Development Group
Ballast
Banc of California
Barbara Epis
Beckett Capital
BKF Engineers
Blake Griggs Properties
Bolour Associates
Braddock & Logan
Bridge Partners
BridgeCore Capital, Inc.
Bright Power
Brown Construction
Bryan Epis
Build Inc
Burlingame Shores Investments
California Building News
Calvera Partners
Canyon Partners Real Estate
Capitial Valley Investments
Carmel Partners
Casco Properties
Charge Partners
Charles Hill Investments
Chicago Title
City of Redwood City
Civic Financial
Columbia Pacific Advisors
Commercial Coverage Insurance Agency
Commercial Energy
Cox Castle & Nicholson
Cresleigh Homes
Davlyn Investments
Demmon Partners
DeNardi Homes
DM Development
Dutra Enterprises
East Bay Asian Local Development Corp
Ecobalance Solutions
Enduravest
Engineered Tax Services
Equity Residential
Essel Environmental
Essex Property Trust
Fairfield Residential
Federation of California Builders Exchanges
First Republic Bank
FivePoint
Fore Property Company
FORMA Development Design Management
FPI Management
Freebird Development
Gaetani Real Estate
Gerson Bakar & Asscociates
Grosvenor
Half Dome Capital
Hanover Finanical
Happy Tree
Highland Villas Associates
Horizon Investment Group
IEC
Insurent
Interstate Equities
IOTAS
IPA
JB Matteson
JCM Partners
JETT Landscape Architecture + Design
Johnstone Moyer
Kastle Systems
Katerra
Kennedy Wilson Multifamily
Kilroy Realty
Land and Houses USA
LivCor
Logical Buildings
Loka Properties
Lone Oak Fund
Lowney Architecture
Lubin Olson
Luther Burbank Savings
Madison Park Financial Corporation
Mann Properties
Marcus & Millichap
Marx Okubo
Marymount Management Corporation
MG Properties
Millenium Flats
Mitsui Fudosan America
MJD Capital Partners
ML Santos Commercial RE
MMC
MNM Partners
Mogavero Architects
Moss Adams
Mosser Capital Management
MVE & Partners
Nearon Enterprises
New Cities Investment Partners
Oakmont Properties
Opus Bank
Pacific Orient Imports
Pacific Rim Financial Corporation
Pacific Urban Residential
Padis Gems
PartnerESI
PGIM
Pippin Property Group
Postcard Properties
Presidio Bank
Private Investor
Private Mortgage Fund
Priya Living
Prometheus Real Estate Group
PSM Sales & Management
PTLA Real Estate Group
RAD Urban
Raintree Partners
Real Estate Transformation Group
Reddy Investors
Related California
Related Companies
Reliant Group Management
Rently Keyless
Resmark
Ridge Capital Investors
Sansome Pacific
Sares Regis Group
Security Properties
Seiler
Seven Hills Properties
Shea Properties
Spatz Development
Spieker Companies
Spirit Living Group
Sridhar Equities
Starcity
Sterling Heatley
Stewart Title Guaranty Company
Stockbridge
SummerHill Apartment Communities
TDC Pacific Properties
The Core Companies
Trinity Properties
Trion Properties
Tzadik Management
UBS Realty Investors
Universal Paragon
Valiance Capital
Veritas
VMWP Architecture/Urban Design
Walden Development
WAVE
Wave Broadband
Webco Group
Western SMC Enterprise
Whiting Ventures
Winn Residential
Wood Partners
Conference Chairs
Sponsors of the Marcus & Millichap / IPA Multifamily Forum: Northern California are typically industry vendors and service providers looking to secure new business from medium to large sized multifamily and/or office portfolio operators.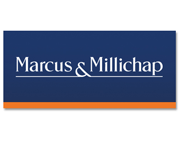 Founded in 1971, Marcus & Millichap is a leading commercial real estate brokerage firm focusing exclusively on investment sales, financing, research, and advisory services, with more than 1,700 investment professionals in offices throughout the United States and Canada. The firm has perfected a powerful property marketing system that integrates broker specialization by property type and market area; comprehensive investment research; a long-standing culture of information sharing; relationships with the largest pool of qualified investors; and state-of-the-art technology matching buyers and sellers. In 2016, the firm closed 8,995 transactions with a sales volume of approximately $42.3 billion.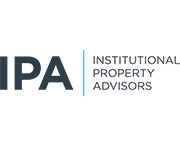 Institutional Property Advisors (IPA) is a unique platform created to support the needs of institutional and sophisticated private investors. IPA is centered around a select national network of institutionally qualified brokerage professionals and supported by a robust technology platform and highly regarded research. IPA's unique combination of real estate investment expertise, industry-leading technology, superior support services and acclaimed research will offer customized solutions for the acquisition and disposition of institutional multifamily properties and portfolios.
Our Sponsors
Sponsors of the Marcus & Millichap / IPA Multifamily Forum: Northern California are typically industry vendors, professionals and service providers looking to secure new business from multifamily owners, investors and developers.
Testimonials
"I enjoyed the conference and thought it was very well done. The economic presentation was excellent as always and the keynote was really terrific."
"I thought that this was the most successful apartment forum I've participated in by a quantum amount."
"The panel I moderated went very well; the feedback I received was excellent (the best panel of the day I heard!). I was honored to participate."