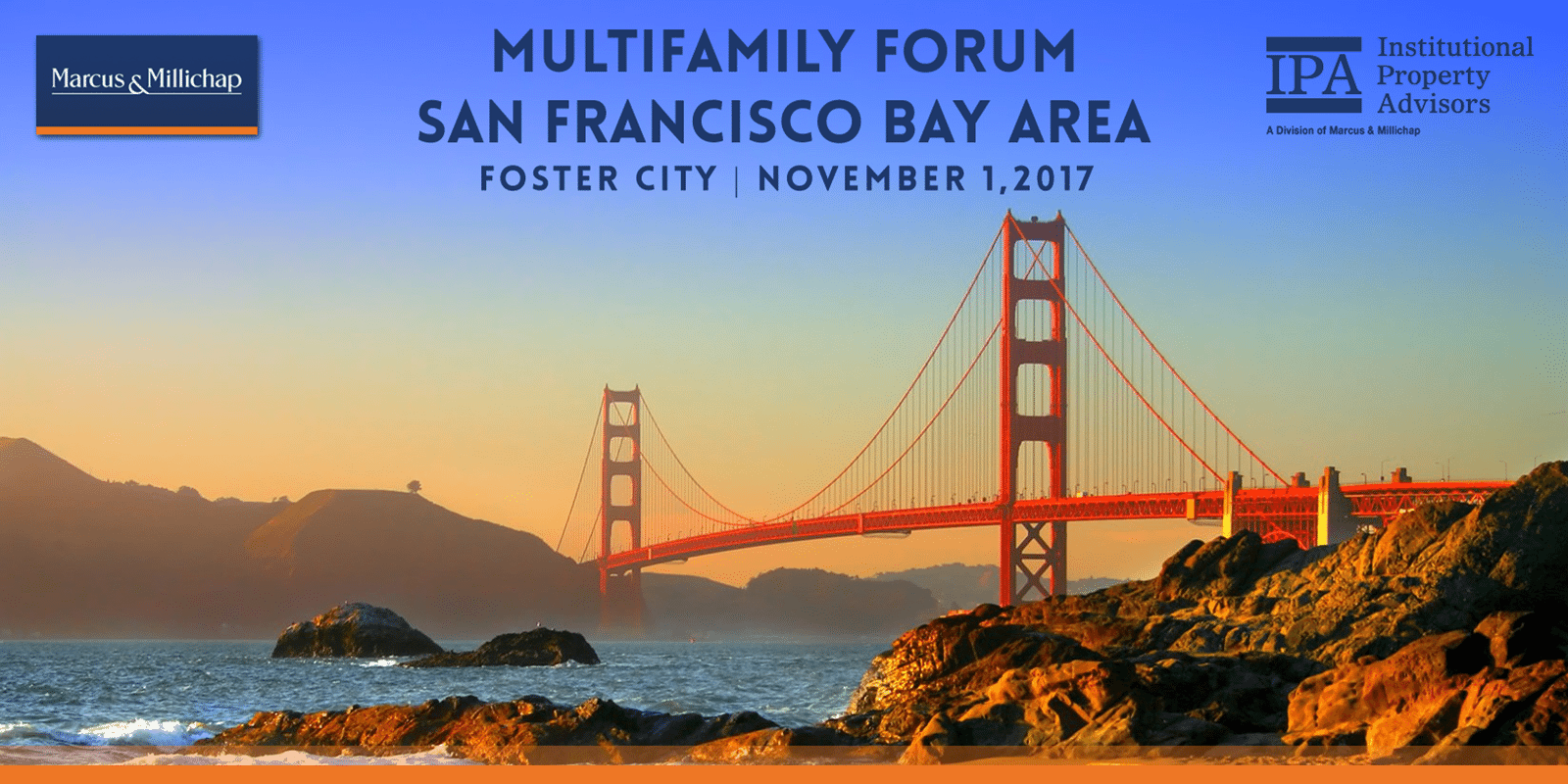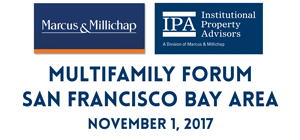 Dynamic Strategies for Any Challenge.
On November 1, the fifth annual Marcus & Millichap / IPA Multifamily Forum San Francisco Bay Area addressed the major issues affecting the affordability of apartments across Bay Area and Northern California. This conference addresses key concerns including the lack of available development options, public policy issues regarding development and affordable housing, current capital market trends, as well as specific opportunities in the various submarkets across the region. In addition, this year included a keynote from Bob Hart, CEO & President of TruAmerica Multifamily and Michael Schall, President & CEO of Essex Property Trust.
The Marcus & Millichap / IPA Multifamily Forums bring together over 6,000 multifamily owners, investors, managers and developers each year to create an in-person marketplace for learning, discovery, networking and deal making. The sessions address the major issues affecting the apartment and condo industries today, and the networking allows multi-housing principals to meet, talk and source deals and investment capital.
Meet the Keynote
Meet the Speakers
Agenda
8:00 AM – Exhibit Hall & Dining Area
Registration, Networking Breakfast & Exhibit Hall Opens
---
8:45 AM – General Session
Opening Remarks
Presented by:
Steve Seligman, First Vice President – Regional Manager, Marcus & Millichap
---
8:50 AM – General Session
Multifamily State of the Market: National vs. Bay Area Markets
John Sebree will present the current state of the market, comparing and contrasting trends in the Bay Area with other high growth markets across the country. In addition, to hard-hitting statistics, John will reveal the results of the proprietary owner survey that will show you what your peers are thinking with regard to their planned investment and divestment activity in the coming year.
Presented by:
John Sebree, FVP & National Director, Multifamily, Marcus & Millichap
---
9:30 AM – General Session
Morning Keynote
Moderator:
John Sebree, FVP & National Director, Multifamily, Marcus & Millichap
Speaker:
Michael Schall, President & CEO, Essex Property Trust
---
10:05 AM – General Session
Increasing NOI & NAV with Smart Building Technologies & Intelligent Data

Presenter:
Jeff Hendler, President, Energy Technology Savings
---
10:20 AM – General Session
Building the Bay: A Pipeline Update from Some of the Biggest Deal Makers
The San Francisco Bay Area market has one of the highest barriers to entry in the country, and concerns around affordability are looming large. Developers and investors are also worried about high prices and low inventory, and construction costs that don't allow for projects to properly pencil out. However, there is an argument to be made that the fundamentals in this market are cause for a positive outlook. What are some strategies being used to entitle and develop major projects in the region.
In motion: Near and long-term implications of driverless cars and the sharing economy
Success Stories: The kinds of projects needed in the Bay Area
Big Data: The influx of jobs versus lack of housing
Fortune Tellers: Future supply in a frothy market
On Everyone's Minds: Affordability propositions and what that means for development
Moderator:
Phuong Dang, Tax Partner, Multifamily, Seiler
Speakers Include:
Jerry Brand, Senior Managing Director – Western Development, Greystar
Ziv Cohen, President, Resmark Apartment Living
Bruce Dorfman, Senior Managing Director, Trammell Crow Residential
Steve Eggert, Founder, Anton Development Partners
---
11:00 AM – General Session
Networking Break
---
11:30 AM – Concurrent Session A
A Challenging Environment: Raising Capital and Borrowing Funds Today
Nationally, banks are starting to show much needed restraint in order to avoid repeating the mistakes that led to the last real estate crash. The number of units coming on line are seemingly difficult to absorb and it's hard for lenders to justify investing in more. How are lending terms different this cycle than they were during the last one? What does that mean for development in 2017 and 2018?
Not Like Before: The role that equity is playing
Success Stories: The kinds of projects needed in the Bay Area
Behind Door Number 2: The kind of deals lenders are interested in if not ground up
The Critical Factor: Maintaining strong relationships with lenders
It's All in the Detail: Why micro locations and quality of finishes matter
Moderator:
David Campbell, First Vice President Capital Markets, Marcus & Millichap
Speakers Include:
Mike McRoberts, Managing Director, PGIM Real Estate Finance
Billy Meyer, Managing Director – RE Lending, Columbia Pacific Advisors
Jim Schneider, SVP – Origination, Centennial Mortgage
Alexa Mizrahi, Loan Originator Lone Oak Fund
---
11:30 AM – Concurrent Session B
Boosting the Bottom-Line: Management and Operations Strategies
When considering strategies for management and operations in the San Francisco Bay Area, it's wise to not paint with a broad brush. Owners and operators are working within a tenant pool that is not homogenous; they differ not just by price but also by micro market. When competing for the highest rents, what are the strategies that owners are implementing to yield the most ROI?
On Everyone's Mind: The effect of Costa-Hawkins revisions
Living Options for All: Serving the San Francisco Bay area's middle class
If You Had to Choose: The benefits of convenience versus square footage
Increase Your Popularity: Best practices for marketing and tenant retention
Generational Shifts: How changing demographics and technology are disrupting what residents want and value
Reputation Management: Getting ahead of what your residents and prospects are saying about you
Moderator:
Cyrus Claffey, Chief Executive Officer, ButterflyMX
Speakers Include:
Patti Girardi, Chief Marketing Officer, Valet Living
Loretta Myers, Chief Operating Officer, DKD
Ralph Pickett, CEO & President, LivCor
Charles Schoenau, Managing Director, Insurent
James Hannah, VP – Client Energy Services, Bright Power
---
12:15 PM – Concurrent Session A
When Push Comes to Shove: Succeeding in Value-Add Today
Gone are the days where you could acquire an asset, make improvements and see outstanding returns. With the rising adoption of rent control and the increasing power of advocacy groups, value-add has become more difficult than ever. Where do value-add deals still exist and what are some strategies being deployed to overcome these prolific barriers?
Weighing the Options: Long-term ownership vs. short-term turn-arounds
Dollars and Cents: Which capital sources are funding value add deals
Price trending: Assessing if rent can climb further
Feeling the pressure: Rent decisions under heated landlord critics
Moderator:
Steve Seligman, First Vice President – Regional Manager, Marcus & Millichap
Speakers Include:
Vince Sakowski, Managing Member, Worthing Capital
Matt Sridhar, Chief Executive Officer, Sridhar Equities
Rob Snook, Principal, Old Adobe Management
Eric Tao, Chief Executive Officer, AGI Capital
---
12:15 PM – Concurrent Session B
Penciling Out: Finding Deals When the Rules Have Changed

Do you feel like you're in the twilight zone? If so, you're not alone. The region is in a time where job growth, wage growth and rent grow is all positive yet nothing pencils out. The economics of new projects has completely changed this year making it nearly impossible to find deals that pencil out. The winners over the next few years are likely to be those who can think creatively and will find opportunity where others can not see it whether it be an emerging neighborhood or unconventional development structure. How are the area's leading developers creating opportunities for further development?
Stacking it High: Pros and cons to an all equity deal
For Sale: Condo market across the region
Seeking Alpha: Equity partnership evaluation next practices
Beyond the Bay: Investment and development opportunities outside the core
Success stories: Creative approaches to structuring deals
Moderator:
Paul Niewiadomski, Partner, Lubin Olson & Niewiadomski
Speakers Include:
Marc Babsin, Principal, Emerald Fund
Arden Hearing, Managing Director, Trumark Urban
Drew Hudacek, Chief Investment Officer, Sares Regis Group
Kirby Sack, Chief Executive Officer, Sack Properties
---
12:55 PM
Networking Lunch
---
1:05 PM – Lunch Workshop
New Trump Administration Updates: Federal, State and Local Energy & Specialty Tax Incentives
The presentation is designed to provide New Trump Administration Updates to Federal, State and Local Energy & Specialty Tax Incentives and provide clarity to the design, qualification and certification process to maximize results and cost savings on purchases, renovations, improvements and new construction projects. During this presentation, you will be able to understand how to capture and best utilize Cost Segregation, Energy Tax Credits (like 179D for commercial buildings and 45L tax credits for residential and multi-family projects) on a local and national scale.
New Trump Administration Tax and Energy Incentives Updates for the property owner, developer, investor, finance and broker communities.
Overview of available Energy Tax Credits and recently extended 179D, 45L and R&D Federal and State credits available for the design of energy-efficient buildings.
Recognize Opportunities and capture benefits for Property Owners, Investors, Architects, Engineers, CPA's, Real Estate Attorneys, Energy Consultants and Contractors.
Understand how these new tax laws and related strategies available can become an additional value-added service to your clients, as well as a revenue stream for your firm.
Additional related benefits and tax strategies including Cost Segregation, Property Tax Appeals, Energy Audits and related savings.

Presented by:
Michael D'Onofrio, Managing Director, Engineered Tax Services
---
1:45 PM – General Session
Max Returns: Tenant Liability Insurance Programs

Learn how owners and property managers are maximizing the profitability of their tenant liability insurance programs. Learn how owners and managers are able to control their programs and drive more money to the bottom-line.
Presented by:
Doug MacGinnitie, Chief Executive Officer, River Oak Risk
---
1:55 PM – General Session
Afternoon Keynote Fireside Chat
Moderator:
Stan Jones, Executive Managing Director Investments, Marcus & Millichap
Speaker:
Bob Hart, President & CEO, TruAmerica Multifamily
---
2:25 PM – General Session
Trailblazing: Innovative Design & Construction Approaches

The volume of transactions being done in the urban core is explosive forcing savvy developers and investors to push the boundaries of creating something unique. With over 3,000 units in the pipeline, construction prices and competition for good quality labor are bound to increase and potentially cause delays in project delivery. When keeping in mind the design of a building, developers must also contend with the goals of planning departments. What are some ways that developers are mitigating the challenges of building in a competitive climate? How can developers work with architects, engineers and technology firms to create projects that the city will be supportive of? What are some of the most innovative design and sustainable approaches that are being deployed that accomplish penciling out and appealing to today's residents?
Standing Out: The building at the nexus of the community
Don't Try this At Home: Insight into the modular movement
Ask First: Working alongside government agencies and planning departments to build what YOU want
Smart Buildings: A win-win to cost savings and enhancing the resident lifestyle
Thinking Outside the Box: Non-traditional construction methods
Moderator:
David Nelson, Sales Manager, Marcus & Millichap
Speakers Include:
Tony Avila, Co-Founder & Principal, Encore Housing Opportunity Fund
Randy Miller, President & CEO, RAD Urban
John Protopappas, CEO & President, Madison Capital Financial Group
Jackie Safier, President, Prometheus Real Estate Group
Jeff Hendler, President, Energy Technology Savings
David Mogavero, Senior Principal, Mogavero Architects
---
3:05 PM – General Session
Closing Remarks
Presented by:
David Nelson, Sales Manager, Marcus & Millichap
---
3:10 PM
Refreshments & Networking
Participating Organizations (Partial List)
2100 Market Church

A B Cole Properties

Acacia Capital

Acclaim Companies

ACCO Engineered Systems

AEW Capital Management

Ahrens Property Manager

AIG Global Real Estate

Allegion

Anchor Valley Partners

Anton Development

Appraisal Nation

Arborwell

Archway Fund

Ares Management

AvalonBay Communities

Avesta Development Group

Azar Management

Ballast Investment

Bank of America Merrill Lynch

BantaDESIGN

BAR Architects

Barry Slatt Mortgage

Bascom San Francisco

Beckett

Bell Realty Ventures

Bentall Kennedy

Berkshire Group

Bock & Clark

Bolour Associates

Braddock and Logan Services

Brass Rail

Bridge Partners

Bright Power

Brown Construction

BUILD

Cadet Heat

California Bank & Trust

Calvera Partners

Carmel Partners

Casco Properties

Castle Companies

CDC Designs

Centennial Mortgage

Charge Partners

Chase

Chicago Title

Chinese American Real Estate Association

City National Bank

CleanFund Commercial PACE Capital

Coffman Engineers

CohnReznick

Columbia Pacific Advisors

Commercial Coverage Insurance

Commercial Energy

Commonwealth Land Title Company

CoStar

Crane Management

CTBC Bank

Dansun

DCI Engineers

Deloitte

Demmon Partners

Dern Architecture + Development

DKD Property Management

EBL&S Development

Emerald Fund

Encore Housing Opportunity Fund

Energy Technology Savings

Engineered Tax Services

Ernst & Young

Essex Property Trust

ETS

Evvia and Kokkari Restaurants

Fairtide

Partners

FCMC

FHN

Fidelity National Title

First American Title

First Foundation Bank

FNTG – Builder Services

Forbix Financial

Fore Property Company

Fortress Investment Group

Fowler Property Acquisitions

FPI

G5

GD Commercial

Geissler Properties

Genzon Investment Group

Gilbane Development Co.

Gould Evans

Greenheart Land

Greenleaf Real Estate Capital

Greystar

Group i

Grupe

Hanna & Van Atta

Hanover Financial

HCV-VYTC

HD Supply FM

Hibridge

Properties

Hines

HL Asset Management

Home Advantage

ima

Insurent

Intercontinental Real Estate Corporation

Jackson Square Properties

JB Matteson

JCM Partners

JETT Landscape Architecture + Design

JLA International

Kennedy Wilson Multifamily

Kilpatrick Townsend & Stockton

Kimley-Horn and Associates
Kletter-Nguyen Law

KPMC

Kylli

Land and Houses

USA
Landcap

Investment Partners

Landis Development

Latch Keyless Locks

Law Purewal

Ledcor Properties

Lee Capital Management

LeEco

Legacy Partners Residential

Lennar Multifamily Communities

Level Four Advisors

Liberty SBF

Lindskog Family Investments

LivCor

LMC

Loan Oak Fund

Local Capital Group

Lowney Architecture

LPAS Architecture + Design

LS Ventures

Lubin Olson & Niewiadomski

Luther Burbank Savings

Luxer One

Madison Capital Financial Group

Majestic Realty Co.

Mann Properties

Marx Okubo Associates

MBH Architects

MJD Associates

MNM Partners

Moc10 Consulting

Mogavero Architects

Morse Management

Mortimer Investments

Multifamily Investment Partners

MVE & Partners

Mynd Property Management

NESF

New Cities Development

New City Group

Nibbi Brothers General Contractors

Novoco

Opus Bank

Owens Financial Group

Pacific Realty Partners

PacificWestern Bank

Paradigm Tax Group

Partner Engineering and Science

Perkins + Will

PGIM Real Estate Finance

Pike & Company Public Relations

Pinnacle

Pippin Property Group

Postcard Properties

Prado Group

Prefab Logic

Presidio Development Partners

Private Mortgage Fund

Priya Living

Proforma Construction

Prometheus Real Estate Group

Prometheus

PTLA Real Estate Group

RAD Urban

Raintree Partners

Real Equity Group One

RealtyShares

Resmark Apartment Living

River Oak Risk

RwC Bridgepoint Management

S.D. Epcar & Associates

Sack Properties

Sares-Regis Group

Security Properties

Seiler

Shea Properties

SiliconSage Investments

Spirit

Sridhar Equities

St. Regis Properties

Stanford University Real Estate

StarConCorp

Stem

Stewart Title – Commercial Services

Stockbridge

Structure Properties

SummerHill Apartment Communities

TGL Capital Group

The Bachrach Group

The Hanover Company

Thor Equities

Tilden Properties

Tim Lewis Communities

TOTO USA

TouchPoint

Trammell Crow Residential

Trion Properties

TruAmerica Multifamily

Trumark Urban

Universal Realty

USA Multifamily Housing

USA Properties Fund

Valet Living

Vanguard Properties

Veritas Investments

Walden Development

Webpass

Wells Fargo Multifamily Capital

Windy Hill Property Ventures

WL Butler Construction

Wood Partners

Worthing Capitol

Zions Bancorporation
Conference Chairs
Sponsors